The Biological Collection Access Service for Europe, BioCASE, is a transnational network of biological collections of all kinds. BioCASE enables widespread unified access to distributed and heterogeneous European collection and observational databases using open-source, system-independent software and open data standards and protocols.


BioCASE is the GBIF Participant Node for the Consortium of European Taxonomic Facilities.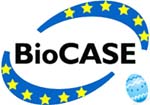 New update mechanism for the BioCASe Provider Software
2014-04-10T17:33:49+00:00
software release
With the latest version of the BioCASe Provider Software, it becomes easier to update new versions. The setup script is now able to import the configuration of an existing BioCASe installation, including all data sources configured. An update hint on the start page will inform administrators of the installation of available updates.
Additional data items have been added to the DarwinCore archives produced by BioCASe, reducing the amount of information lost in the transformation from ABCD to DarwinCore. Firebird and Sybase databases are supported now, paging has been optimized for Oracle. Several smaller changes and fixes are part of this release; for a complete list, please refer to the version history.
For older news items please see the news archive.